Nollywood Actress, Etinosa Idemudia's marriage to her Benin city-based lawyer hubby, Ighorosa, has crashed.
The movie star took to her Instagram page on Saturday, May 8, 2021, where she called out a popular blogger for announcing the crash of her marriage and breaking the news of her pregnancy months ago.
"This 'old witch' again! I really do not want to reply you but I feel you will never stop if I ignore. You were the first person to publicise my pregnancy that was barely trying to survive past the first trimester due to its complication. I kept quiet," she wrote.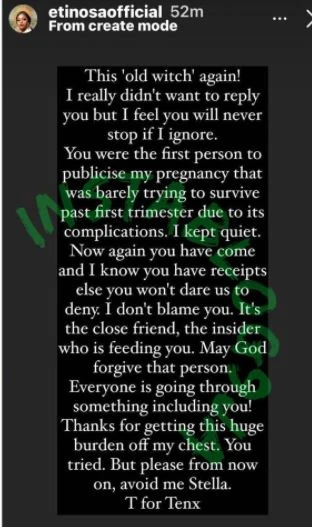 "Everyone is going through something including you. Thanks for getting this huge burden off my chest. You tried. But from now on, avoid me, Stella. T for Tenx."
She has deleted the post.
It would be recalled that the actress got married in September 2020, to a Benin-based lawyer.
She got married at the age of 22 to a military officer. That union crashed years after following domestic violence accusations.